In case you haven't seen it, the Discovery Building has a ginormous shark protruding from it today to promote Discovery Channel's Shark Week.



(photo blatently lifted from Flickr.)

Piratz Tavern should buy the shark head when Discovery is done with it and install it on their roof facing upward. How cool would that look on Google Maps???

Other Shark Week promotions in Silver Spring:

- Local restaurants will have "shark-themed" menu items.
- The AFI Theatre will showing Jaws through the 20th.

Here's some more Shark pics: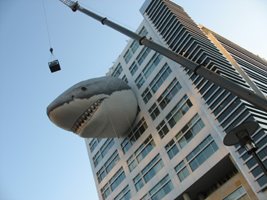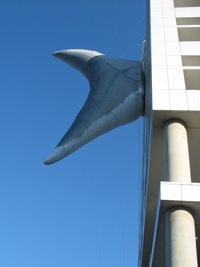 More shark data from Washington Business Journal:
Discovery says it took 6.65 miles of fabric to create the inflatable fish and 36.7 miles of thread to sew him together. And if it were real, the shark would weight about 84,000 pounds.